Home-Start Bradford Volunteer Preparation Course
An in-depth, upskilling 7-session course to prepare you become a Home-Start volunteer
Anyone interested in volunteering and supporting families with 0-5s
Tuesday 18 April 2023
6.00pm - 9.00pm
Thornbury Centre, Leeds Old Road, BD3 8JX
Do you want to do something amazing? Can't attend training during the day?
Our Home-Start Better Start project is looking for new volunteers and our new evening course starts on Tuesday 18 April 2023.
If you would like to become a home-visiting volunteer supporting families in the Better Start Bradford area, this is your chance!
Do you want to
Develop new skills?
Progress your career?
Improve interpersonal skills?
Have better health and well-being?
Have more self-confidence?
Put a smile on someone's face?
Then volunteering with Home-Start Better Start could be the start of a fabulous new journey for you.
Please note that the above date is the start date of seven-week course.
The volunteer preparation course starts on Wednesday 18 January 2023 and will run for seven weeks on Wednesdays as follows:
Tuesday 18 April
Tuesday 25 April
Tuesday 2 May
Tuesday 9 May
Tuesday 16 May
Tuesday 23 May
Tuesday 30 May
The schedule includes:
Welcome, Introduction and role
Values and attitudes; Communication
Supporting parents and meeting the needs of children
Confidentiality and diary sheets
Safeguarding children
Find out more about becoming a Home-Start volunteer.
Each volunteer will need to have completed an application form (including providing contact details to obtain two references) had an interview and provided documents for a DBS check.
Application forms are available from [email protected], by ringing 01274 666711 or visiting: https://www.homestartbradford.co.uk/volunteers
Please note, this event is not organised by Better Start Bradford. If you have any questions about the event – or would like to check it is still running before attending – please contact the organiser directly.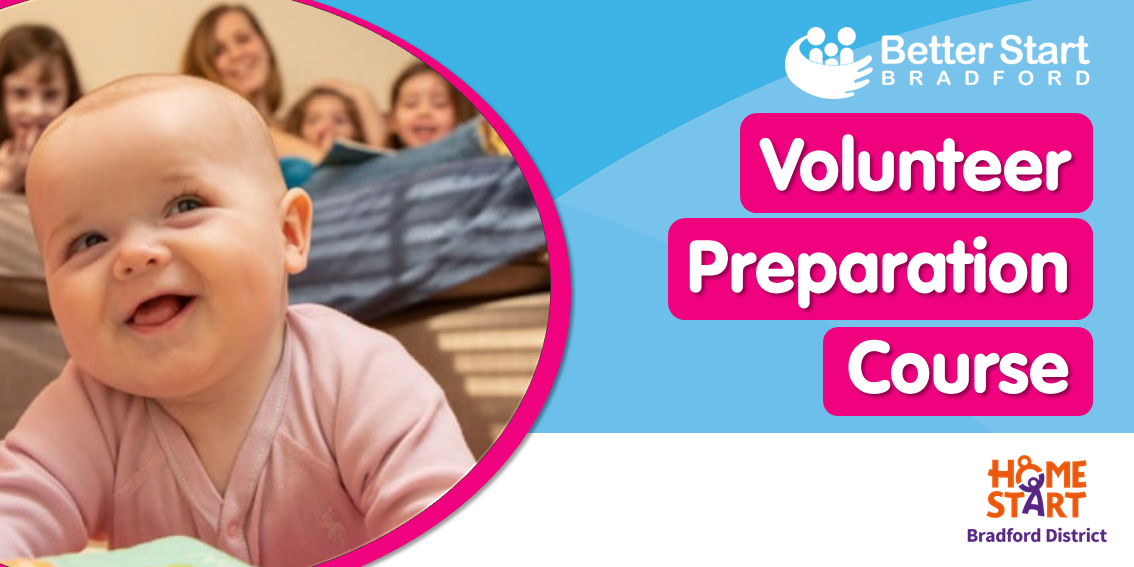 Event contact details
This event is delivered by Home-Start Bradford District
You may also like to look at...
Events & activities
Whether you're expecting a baby, have children aged 0-3 or work or volunteer in health, maternity or early years, we've got an event or training session for you.