Holding Time Tea Party with Singing Mamas
A relaxed afternoon of singing, coffee and cake
For mums and anyone who would like to celebrate the launch of the Holding Time project in Bradford
Wednesday 16 November 2022
12.30pm - 3.00pm
Kala Sangam Arts Centre (First Floor), St Peter's House, 1 Forster Square, BD1 4TY
Holding Time Tea Party with Singing Mamas
Wednesday 16 November 2022
12.30-3.00pm
Kala Sangam Arts Centre (First Floor), St Peter's House, 1 Forster Square, BD1 4TY
Visual artist Lisa Creagh and Better Start Bradford are pleased to announce that The Holding Time Project, a photography exhibition of breastfeeding portraits, is coming to Bradford. It is being held at the Kala Sangam Arts Centre and from Monday 14 November, it will run until Monday 30 January 2023.
To celebrate the exhibition opening we have invited Singing Mamas, a choir committed to improving the wellbeing of women through singing, to celebrate Baby Week Bradford and the opening of the Bradford Holding Time exhibition.
Come along, grab a cuppa and some cake and enjoy the uplifting sounds of Singing Mamas – guaranteed to blast away any November blues!!
Singing Mamas will be coming from Hebden Bridge but a new group is planned for Bradford, so come along and see if it's for you!
This event is part of Baby Week Bradford 2022
Book your free place here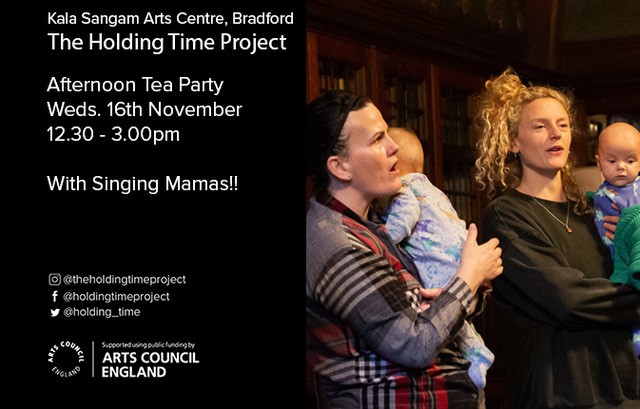 Event contact details
If you have any questions about this event, please contact Lisa:
You may also like to see...
Baby Week Bradford 2022
Baby Week Bradford 2022 focused on speech, language and communication in the early years, with Bradford Babies TALKING!
BD3 / 18th November 2022
Talking Dots
A joyful morning of sensory and messy play, and a chance to join the popular Little Dots group for a special Baby Week Bradford session. At SHINE - St Stephen's Church, BD5 7BX